To Infinity and Beyond…
Many exciting things are moving forward as we head into spring 2013.
Tom is buried in the studio, lovingly coaxing his legacy analogue equipment to bear with him just a little longer while he wraps up the mix of his latest song, "Someday." Although he has listened to it more times than he cares to count, he is still very excited about it, saying, "This final song might be the title track for the new BOSTON studio album; it reminds me of the up tempo rockers I wrote for the debut album over 30 years ago."
With a little more tweaking, then some re-tweaking, then a tad more tweaking, Tom says the new album should be ready for release by mid year … that would be mid year 2013. "After completing this mix I only need to redo vocals on a couple of the cuts, remix them, and sequence and master the album. After working on this project for over 10 years I can finally see light at the end of the tunnel," he says. Tom plans to start work on the long awaited BOSTON live DVD as soon as the studio album is finished.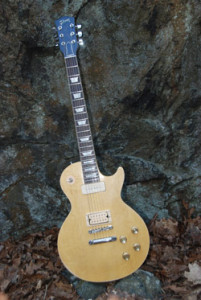 Meanwhile, in other cool news, Gibson is honoring Tom and his original Les Paul with a limited edition Gibson Custom Collectors Choice guitar. (His is #10.) From Gibson: "If you've ever listened to the music of the legendary rock band BOSTON, then you've already heard the latest Collector's Choice Les Paul. In its own right, this example of a 1968 Goldtop (now with the top stripped off the original finish to expose its maple top) is an amazing instrument; a nice, 'cheeky' neck, a flexible tone palate via Tom's preferred P-90 and DiMarzio Super Distortion pickup combination, and a patina that comes from a lifetime of extensive live and studio use. One of two in Tom Scholz's collection, this particular '68 Les Paul Goldtop Deluxe is the first 'real' guitar Tom ever owned, acquired over 30 years ago and essential to his very unique sound and career." Tom Loves the attention to detail that was apparent in duplicating his guitar. He says, "The precision with which Gibson has replicated the physical properties of my original Les Paul is astounding. This guitar feels and plays exactly like my guitar, and the resemblance to the original is uncanny. But most impressive is that it actually sounds like my guitar! I'm really humbled that such an elite shop would go to so much trouble to reproduce the guitar I play." Tom says he will donate all the proceeds from his royalties on the sales to charity.
Check gibson.com for details on purchasing your own Tom Scholz Les Paul.