The 'Secret Life' of science nerds
By Mark Shanahan GLOBE STAFF OCTOBER 18, 2015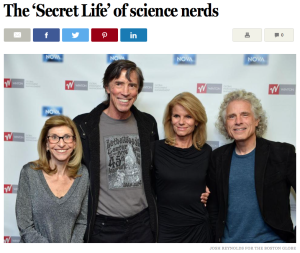 The PBS Web series "The Secret Life of Scientists and Engineers" hosted an event at the Kendall Square Theater the other night as part of the Arlington International Film Festival. Emceed by "Secret Life of Scientists" executive producer Joshua Seftel and producer Tom Miller, the get-together included short films and a talk show-style conversation with some notable science nerds, including guitarist (and MIT grad) Tom Scholz of the band Boston, biologist (and former Miss Massachusetts) Erika Ebbel, experimental psychologist Steven Pinker, celebrated psycholinguist Jean Berko Gleason, roboticist Colin Angle, string theorist Jim Gates, and Alzheimer's researcher (and occasional Aerosmith keyboardist) Rudy Tanzi.
Names can be reached at names@globe.com. Follow Mark Shanahan on Twitter @MarkAShanahan.
From left: Paula S. Apsell, senior executive producer of "Nova"; Tom Scholz and his wife, Kim; Steven Pinker.